Powder Springs, Georgia, is less than a 30-minute drive from Atlanta and exemplifies the changes changing Georgia politics. A growing population of youthful and racially diverse citizens frequents shops and eateries operated almost entirely by Black owners in the city's downtown area. In 2015, the suburban city elected its first Black mayor, and the county in which it is located, the former Republican stronghold of Cobb, went for President Biden by 14 percentage points in 2020.
Another significant shift is that Powder Springs, a majority-Black city, may soon be represented in Congress by Marjorie Taylor Greene.
This expansion, which was the product of new district lines drawn by Georgia state legislators, was part of a Republican effort to dampen Democrats' enthusiasm. However, the idea of Powder Springs and another mostly Black suburb, Austell, being represented by perhaps the most far-right Republican in Congress raises problems that go beyond partisan politics for locals. Some say they have little faith in Ms. Greene's ability to treat them with the same care and respect as her white, Republican voters, and are concerned that their voice in Congress will not be heard.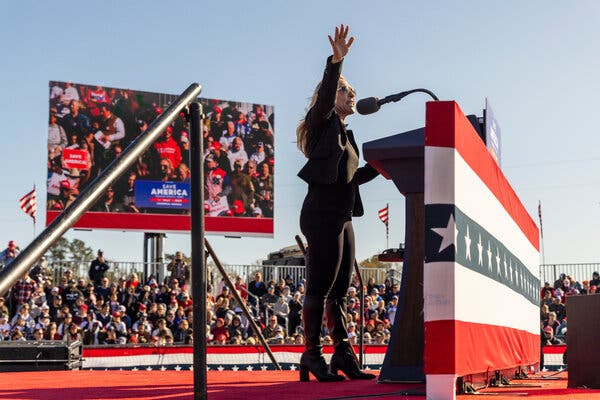 "It's about having someone who will take your calls, who will work on your behalf, who will care about what happens to your children, who will care about making sure you get to your job," said State Representative David Wilkerson, a Black Democrat who lives in and represents the communities that have been drawn into Ms. Greene's congressional district. "That's exactly what they're searching for."
Read More: A Democrat from A Border State Criticizes Biden's Measures to Address the Predicted Immigration Surge
The newly created 14th Congressional District is the consequence of a strategy known as "cracking," which involves breaking up large groups of voters and dispersing them across multiple districts to dilute their voting power. It is ubiquitous and legal under federal law unless it is discovered by a court to be employed to prevent voters of the same race from electing a candidate of their choice.
Ms. Greene, who is best known on social media as a bomb-thrower, has said little about how she would characterize the new neighborhoods in her district if she is re-elected in November. Requests for comment went unanswered.
She told The Atlanta Journal-Constitution in November that she was disappointed that her district had been rendered scarcely less Republican and that the redistricting process had been a "fool's errand conducted by power-obsessed state politicians." Instead of adding Democrats to her district, she stated that lawmakers "should have fortified G.O.P. districts for the long future."
The newly drawn 14th Congressional District is a result of "cracking," the practice of breaking up blocs of voters and scattering them across multiple districts. https://t.co/lxI40Wg8AX

— The Seattle Times (@seattletimes) April 30, 2022
Ms. Greene won her seat by more than 50 percentage points in 2020, and her district will remain bright crimson under the revised boundaries. Regardless, it will run through Georgia's mostly white and rural countryside to the state's mountainous Tennessee border. Powder Springs and Austell, with a combined population of under 25,000 people, will stand out in the new 14th District as a lone blue nook in a sea of scarlet.
To be sure, Republicans represent a large number of Democratic voters across the country, and vice versa. Some people, though, perceive Ms. Greene's Republicanism as a direct assault. The lawmaker subscribed to the QAnon conspiracy theory and questioned whether the Sept. 11 attacks and college massacres were real, resulting in her removal from legislative committees by the Democratically controlled House.
Read More: After Marvel Fans Petitioned to Cancel Chris Pratt, James Gunn Defended Him.
She's dealing with a legal issue with her candidacy after a group of Georgia voters filed to have her removed from the election. The group claims that her comments in the days leading up to the Jan. 6 attack on the Capitol, such as referring to the day as "our 1776 moment," incited the violence. Ms. Greene stated in court that she was referring to "the bravery to oppose" the election results, but that she was not advocating violence.
Redistricting: What You Should Know
Ms. Greene spoke at a gathering held by a prominent white nationalist in February. Later, she defended her presence, claiming that the critiques were an attempt to "cancel" her.
"Marjorie Taylor Greene is the polar opposite of everything we believe," said Robert Richards, a former Army pilot, and Baltimore police officer who now works as a senior federal government official. He's been a resident of Powder Springs since 2016. "Her speech, her demeanor, her discourse in Congress, and, quite simply, her discourse as an American, is just awful."
Representative David Scott, a Black Democrat whose district covered parts of Atlanta and its neighboring suburbs, has represented Powder Springs and Austell for more than a decade. Mr. Scott's new district now includes a larger portion of the Atlanta suburbs.
Most people deal with their legislators regularly, such as expedited passport renewal, Social Security benefits claims, Veterans Affairs questions, or domestically-oriented laws. Ms. Greene's ability to legislation has been curtailed as a result of her removal from committee duties. Much of the legislation she has sponsored is aimed at influencing political outcomes, such as the "Fire Fauci Act" and the decision to question Vice President Biden. However, none of the payments she has proposed in this legislative session are specific to the 14th Congressional District.
She boasted during a March rally in her area about voting down every single item of legislation favored by Democrats.
Mr. Wilkerson, the state lawmaker, expressed concern about a possible communication breakdown between his office and Ms. Greene's in Washington to deal with constituent issues. He stated that he had not heard from her office since the new maps were passed last fall.
Read More: Wall Street Investor Hwang, Once Worth Billions, Arrested
"Our cities are booming," said Henry Lust, a Powder Springs city councilman. "We have substantial developments that are being put on the table and starting to be implemented." We have a promising future ahead of us. We don't want that promising future to be derailed."
Ms. Greene has also alienated several conservatives. For Georgia's primary on May 24, she has garnered five Republican candidates. Jennifer Strahan, a small-business owner, has run as a no-nonsense conservative, which has helped her gain support from several Republican officials in the area, including four out of five county commissioners in one of its largest counties. She claims she would re-establish ties between the district and Washington.